phone: 570-722-3530 fax: 570-722-3436
​ email: mvn1@ptd.net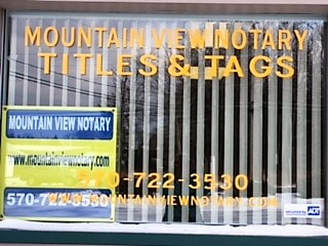 NOW OPEN!!!!!!




WE ARE AN AUTHORIZED PENNDOT AGENT OFFERING EXPEDITED TITLE AND TAG TRANSFERS WITH ELECTRONIC DRIVER AND VEHICLE REGISTRATION SERVICES WHICH ALLOWS YOU TO WALK OUT OF OUR OFFICE WITH INSTANT REGISTRATION CARDS, AND PLATES. LOST YOUR REGISTRATION CARD? WE WILL PROVIDE YOU WITH AN INSTANT REPLACEMENT.


PURCHASING A VEHICLE FROM PENNSYLVANIA AND TRANSPORTING IT TO YOUR HOME STATE? WE WILL GIVE YOU A TEMPORARY IN-TRANSIT PLATE AND CREDENTIALS TO LEGALLY BRING THE VEHICLE BACK TO YOUR HOME STATE.


WE ARE A REGISTERED DEALER WITH DCNR HANDLING SNOWMOBILE AND ATV TITLING, REGISTRATIONS, DECALS/PLATES.

NOTARY SERVICES ALWAYS AVAILABLE FOR AFFIDAVITS, VERIFICATIONS, ACKNOWLEDGMENTS, OATHS, CERTIFICATES AND REAL ESTATE CLOSINGS AT OUR LOCATION OR YOURS. ***​​I am not an attorney licensed to practice law in this commonwealth. I am not allowed to draft legal records, give advice on legal matters, including immigration, or charge a fee for those activities. ***​



​ ​ HOURS:
MONDAY: 10-5 PM
TUESDAY: 10-5:30 PM
WEDNESDAY: CLOSED
THURSDAY: 10-6 PM
FRIDAY: 10-6 PM
SATURDAY: 9:30- 1PM ( most Saturdays, please call ahead)
​


​WE ARE AVAILABLE FOR APPOINTMENTS BEFORE AND AFTER HOURS LISTED ABOVE. PLEASE CALL IF YOU WISH TO SCHEDULE AN APPOINTMENT OTHER THAN HOURS LISTED ABOVE.​​

























---